* Get 2nd Bottle For 33% Off Total - See Below For Details *
This is the perfect solution for those of us that carry too much and forget the basics!
Are you sick and tired of carrying around big, bulky drink bottles...?

Check this out! The Space-Saver Collapsible Drink Bottle is lightweight, and expands or contracts in the blink of an eye, meaning there is always room to stash this drink bottle wherever you go!
Keep yourself hydrated with an easy to carry drink bottle which you can expand, fill up and simply collapse once you're done! It can easily fit into your pocket, purse, backpack or briefcase.

Lightweight and durable, BPA-free food grade silicone construction, zero leaks

Easily throw this in your bags for the day, or for a longer trip, to always have an awesome bottle on hand

Eliminate your use of harmful plastic water bottles forever - reduce your environmental impact today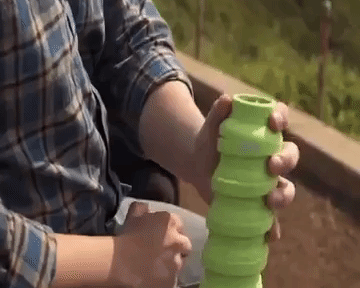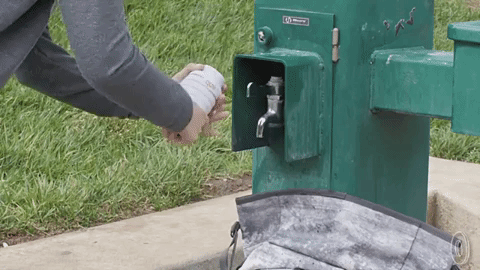 Get a second bottle for a friend or family member and get 33% off marked sale price! That's huge!
Or, check out our bumper Family Pack option to get all 4 awesome colors for the whole gang!
On sale till we sell out - everyone needs one of these!
Scroll back up, choose your color & deal, and hit Add To Cart...
---
HERE IS HOW TO GET 33% OFF FOR 2 BOTTLES:
1. Choose your first item, hit 'Add To Cart'
2. In the cart, hit your browser back button to return to this page, or simply click the product title
3. Choose your next item, and hit 'Add To Cart' again - your discount will be automatically applied at checkout
Note: if you have any trouble, please email support@thepinchpoint.com, and we'll gladly help you out.
HERE IS HOW TO GET YOUR FAMILY PACK:
1. Select "Family Pack" option from drop down menu above
2. Click "Add To Cart" to proceed to checkout
3. That's it!
---
SHIPPING
At The Pinch Point we always work hard to ensure your order reaches you as quickly as possible, however, please allow 2-3 weeks for delivery. Once your order is placed, you will receive an order confirmation email with your invoice. Then, once your order is processed within 24-48 hours of order placement, you will receive a shipping notification email as well. Check our Shipping Policy for more information.
Please note: if you are ordering after 4th December 2018, we cannot 100% guarantee delivery prior to Christmas. Delivery will be likely, but we want to be upfront with you in case your purchase is intended as a gift.
RETURNS
If for any reason you are not 100% satisfied with your purchase from The Pinch Point within 30 days of purchase, you may return the item for 100% store credit. This process is very simple, and firstly just involves getting in touch with our friendly customer service team who will guide you through the process. Check out Returns Policy for more information.
SUPPORT
We place the utmost importance on two primary values:
1. Sourcing quality and unique products, at affordable pricing, and;
2. Our amazing customer relationships.
Customer service for us is the bench mark of our success, therefore we work 24/7 to ensure your satisfaction. We offer direct support lines of communication so that we can chat 1-on-1 to ensure your happiness with your product delivery. You can review our shipping policy, track your order status, or contact us directly using the links at the bottom of this page.
---
MORE INFORMATION
Made of food grade silicone material (BPA-free), which is safe, non-toxic, durable and dish-washer safe
Leak-proof gasket; no need to worry about leaking even during strenuous exercise
Takes less space when empty and weighs up to 80% less than the conventional hard plastic bottles
Featured with folding design, free to stretch and on the go, easy to carry
Capacity: 500 mL when expanded, 225 mL when contracted